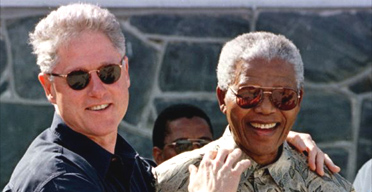 Nelson Mandela died Thursday.
And likely and rightly, he'll be remembered for helping bring an end to apartheid. A pretty impressive stand-alone legacy yet his impact goes so much deeper, his life a lesson even more so now, a lesson that former President Bill Clinton summed up so well when he said this about Mandela:
I once asked Nelson Mandela whether, when he walked out of prison for the last time, he didn't feel anger and hatred again for having all those years stolen. He said that, briefly, he did feel old demons rise up until he realized that if he held onto his hatred after his release, he would still be a prisoner: 'I wanted to be free, and so I let it go.'

On another occasion, I asked him how he found the inner strength to do that. He said the long years of confinement had taken a terrible toll. He had been abused physically and emotionally. His marriage didn't survive. He didn't see his kids grow up. Then he said that one day 'I realized they could take everything from me, except my mind and my heart. Those things I would have to give away. I decided not to give them away.' Then he looked at me, smiled, and said, 'And neither should you.'

Mandela didn't give someone else the permission to define his life, his worth, and his tomorrows. If you have lost a bunch of yesterdays, welcome to the human race. You still don't have to give anybody your tomorrows. That's advice we should all take to heart and try to follow. Even for Mandela it was sometimes easier to say than do, but with discipline and determination, he did it. So can the rest of us.
 So many good nuggets in this yet I want to focus on a few.
I wanted to be free, and so I let it go. 
If you hear nothing else, hear this. Let this soak in. Forgiveness is not weakness nor is lack of vengeance, though, I and I am guessing a lot of us have been conditioned to believe otherwise. Letting goes of whatever it is FREES you. Let the person who ignored The Golden Rule or was intolerably cruel or just wrong sit with what happened, carry what happened around. You? You let it because that is where the freedom is. 
A big part of the genius of Mandela was how he was able to step beyond his situation and see the plight of all, of big suffering and little suffering everywhere. This reminds me very much of an adage of my dad's: "Whether you steal a penny or a fridge matters not. A small wrong is still a wrong. Do right." What Mandela was saying is applicable whether you have been imprisoned unfairly and savagely treated or gossiped about or backstabbed or whatever small injustice has poisoned your outlook and demeanor. Mandela understood what Viktor Frankl was saying in Man's Search For Meaning that "Everything can be taken from a man but one thing: the last of the human freedoms—to choose one's attitude in any given set of circumstances, to choose one's own way." Boom. Mandela choose not to let the unfairness of life change his attitude, and neither should you.
If you have lost a bunch of yesterdays, welcome to the human race. You still don't have to give anybody your tomorrows.
I have lost yesterdays. We all have.
And this sucks.
Then think of Mandela and what he lost, what he gave for an idea he believed in, what he sacrificed and what they took. If he is wise enough not to give away his tomorrows, shouldn't we all follow his example.
BTB,
jengel
ps. Many thanks to my friend Tara M for posting this quote from San Francisco. I had read this before and forgotten. I miss you, friend, your light and your inspiration.